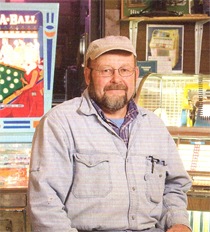 I have been fixing and restoring things since I brought my grandfather's Model A Ford home to the family garage off an island in Nebraska at age 14. (Yes, there are islands in Nebraska, this one was in the middle of the Platte River.) I took it apart and it sat in pieces, until twenty years later I did a complete body off restoration. That effort won first prize at the only show it was ever in. I still have the car today, nearly 40 years from when it was given to me and 20 years from when it was restored, and it is still in remarkably good condition.

Since that car was given to me I have restored nearly 20 vehicles and more mechanical items than I can count. I have also collected more unrestored soda machines, jukeboxes, scales, vending machines, cash registers, pinball machines, arcade games (and anything else that was of interest to me) than I will ever have time to restore. I will restore one of these for you if you come to my shop and pick one out, or I can restore yours.

In the last five years I have narrowed my focus to tube type jukeboxes, early pop machines, and electro-mechanical pinball and arcade games. (They take up much less space than cars.) I still occasionally do a car, but I focus mainly these early collectable machines. I find the work rewarding not so much for the money (because I always spend more time on a project than I bill for), but certainly for the satisfaction.

You can always find someone who will tell you they can do it cheaper. And you can find someone who will charge you more. But if you compare apples to apples you will find the detail and quality of my work to rival even the largest of shops, and I'll give you the best value for your money. This is my motto: You WILL be happy with the result.

You can probably get in touch with me now, on my cell phone, at (317) 730-0018. I look forward to talking with you.

Sincerely,

Bob Peltz